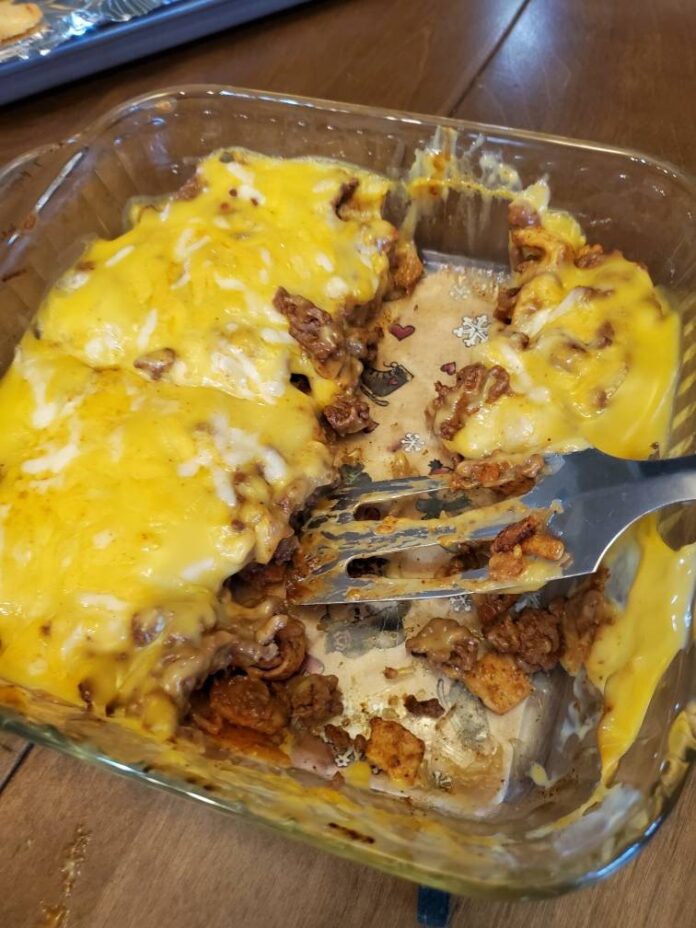 Serves 6
10m prep time
30m cook time
INGREDIENTS
1 lb ground beef
1 small onion, chopped
1 (4.5 oz) can green chiles
2 oz cream cheese
1 bag corn chips, such as Fritos
1 cup water
2 (1 oz each) packages taco seasoning
2 cups shredded Mexican cheese blend
2 1/2 cups iceberg lettuce, shredded
1 cup tomatoes, chopped
2 cups salsa
1 cup sour cream
PREPARATION
Preheat oven to 375°F and grease a 7×11-inch baking dish.
In a large skillet, cook the ground beef and onion over medium heat. Drain if needed.
Add 1 cup water and taco seasoning to beef and cook according to package instructions.
Stir in cream cheese until melted, followed by the green chiles.
Arrange beef in prepared baking dish and top with corn chips and shredded cheese.
Cover tightly with foil and bake until cheese has melted, about 20 minutes. Remove foil and bake 10 minutes more.
Top with lettuce, tomatoes, and more chips, if desired, and serve with sour cream and salsa. Enjoy!
You Might Also LOVE: