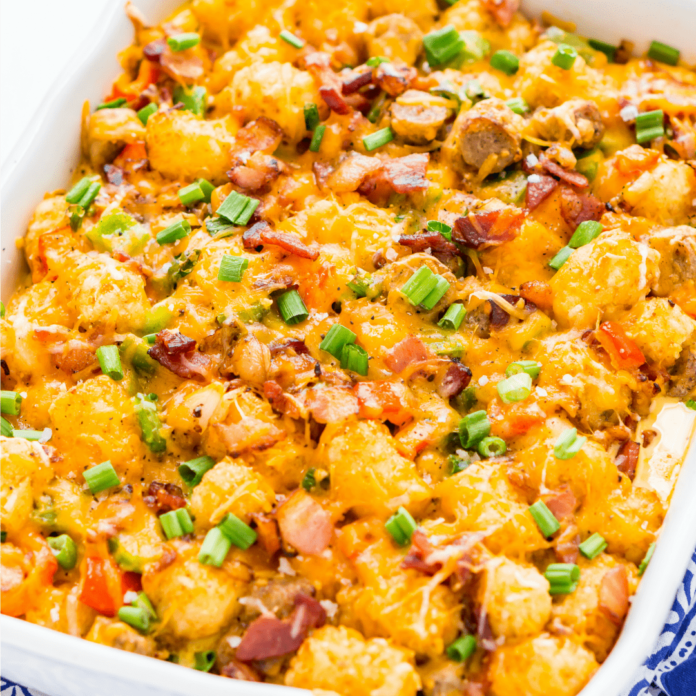 Ingredients
1 lb lean ground beef (the leaner the better)
1/2 onion , diced
2 cloves garlic , minced
1 tbsp Worcestershire sauce
15 oz can green beans , drained
10.75 oz can condensed cream of mushroom soup
2 cups shredded cheddar cheese
2 cups frozen tater tots
salt and pepper to taste
Instructions
Preheat oven to 375F.
Brown the ground beef in a large skillet over medium-high heat. Drain excess fat.
Add the onions to the skillet and sauté for 4 to 5 minutes until translucent.
Add the garlic and cook, stirring frequently, for an additional minute.
Stir in Worcestershire sauce and season with salt and pepper to taste.
Transfer ground beef mixture to the prepared baking dish and spread evenly.
Top with cream of mushroom soup, followed by green beans, followed by the cheddar cheese. Make sure to season the green bean layer.
Finally, top with tater tots.
Bake for 35 to 40 minutes or until tater tots are golden brown and cheese is melted.
Serve immediately.
Nutrition
Calories: 420kcal | Carbohydrates: 20g | Protein: 29g | Fat: 25g | Saturated Fat: 12g | Cholesterol: 91mg | Sodium: 859mg | Potassium: 642mg | Fiber: 2g | Sugar: 3g | Vitamin A: 865IU | Vitamin C: 13.2mg | Calcium: 321mg | Iron: 3.4mg
More of Delicious Recipes You'll Love!
MAGNOLIA BAKERY BANANA PUDDING
PHILLY CHEESE STEAK CHEESY BREAD