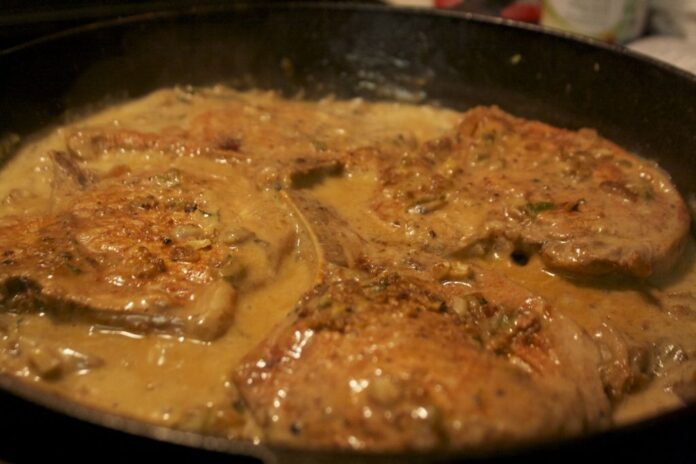 These easy Crock Pot Pork Chops are one of our all time favorites! Tender pork chops cooked to perfection smothered in mushrooms and onions creating a flavorful gravy.
Ingredients
4 pork chops thick with bone-in is best
salt & pepper to taste
½ teaspoon paprika
½ teaspoon garlic powder
1 tablespoon olive oil
1 small onion sliced
2 cups mushrooms sliced
1 can cream of mushroom soup
1 can cream of chicken soup
¾ cup beef broth I prefer low sodium
Instructions
Preheat oil over medium-high heat. Season pork with salt, pepper, paprika and garlic powder. Brown pork on each side (about 3 minutes each side).
Remove pork, add broth and soup to pan and whisk to release any brown bits in the pan.
Place onion & mushrooms in the bottom of the slow cooker. Top with pork and pour the soup mixture overtop.
Cook on low 7-8 hours or until pork is tender. Serve over rice, potatoes or noodles.
Recipe Notes:
*Best choices for this recipe include blade chop, shoulder chop or sirloin chop. Leaner cuts do work but the results are not as tender.
More of Delicious Recipes You'll Love!
MAGNOLIA BAKERY BANANA PUDDING
PHILLY CHEESE STEAK CHEESY BREAD