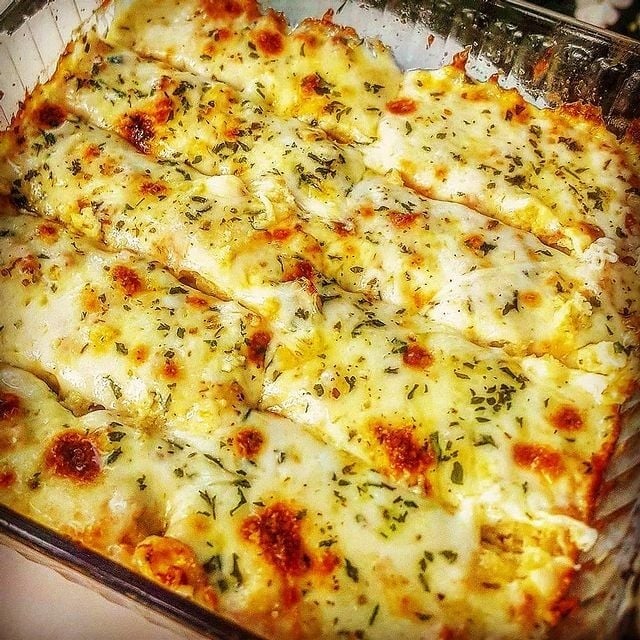 Is there anything more delicious than gooey, melting cheese? Or how about some garlic butter bread? Hmmm…I really like how this recipe for garlic cheese breadsticks blends these two flavors into a delicious comfort food!
Did I mention how simple it is to make? You can make fresh, home-baked breadsticks using a simple tube of Pillsbury's pizza dough, infusing your house with the fragrance of fresh bread and garlic. Every time I eat garlic and butter, I pass out. This scent is fantastic!
Garlic cheese breadsticks go perfectly with your favorite soup. Or perhaps with strength? It's also good on its own with a small dish of marinara sauce for dipping. Yummy!
Ingredients :
1 tube refrigerated pizza crust
1 tsp melted butter
1 crushed garlic clove
3/4 cup shredded mozzarella cheese Feel free to add more!
1 tsp parmesan cheese
1 teaspoon dried oregano leaves optional
Instructions :
Heat the oven to 425 Fahrenheit.Spread the pizza crust on a baking tray lined with parchment.Mix the melted butter and crushed garlic, then spread evenly over the entire pizza crust.
Sprinkle the mozzarella cheese and Parmesan cheese evenly over the pizza dough. Then sprinkle dried oregano evenly on the face.
Before baking, cut the cheese-covered pizza crust into 16 equal rectangles using a pizza cutter or a large knife.
Bake for 12 minutes until the cheese melts and becomes slightly golden.
Enjoy !
More of Delicious Recipes You'll Love!
MAGNOLIA BAKERY BANANA PUDDING
PHILLY CHEESE STEAK CHEESY BREAD