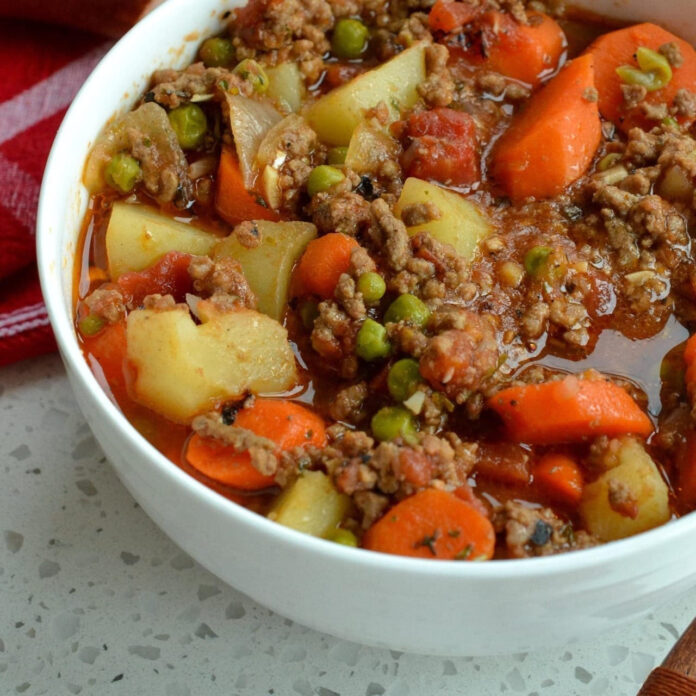 Have you ever had something so wonderful that you couldn't stop eating it? One of those recipes is this one. You'll feel as if you've died and gone to heaven after making this recipe.
Our kids often request this hearty ground beef soup at family gatherings, accompanied with a fresh loaf of handmade bread and tall glasses of milk. This hamburger soup has a strong taste, a lot of fresh vegetables, and it's simple to cook.
Ground beef, potatoes, and a variety of veggies are piled high in this hearty hamburger soup, which is served in a flavorful broth. The ideal quick dinner that the whole family will enjoy!
Chili mac, chicken cacciatore, or this easy yet fulfilling hamburger soup are my go-to one-pot meals when I need a crowd-pleasing dish. You'll need the following items to make this recipe:
Ingredients:
2 pounds ground beef
4 carrots, diced
4 celery ribs, chopped
1 onion, chopped
4 potatoes, peeled and cut into 1-inch pieces
1 (15 ounce) can tomato sauce
1 (14.5 ounce) can whole tomatoes, crushed
1 (15 ounce) can peas, undrained
1 (15.25 ounce) can whole kernel corn, drained and rinsed
1 (15 ounce) can green beans, drained and rinsed
ground black pepper to taste
⅛ teaspoon ground thyme
1 bay leaf, or more to taste
¼ cup water, as needed
Directions:
Crumble ground beef into a stockpot over medium-high heat; cook and stir until beef is crumbly, evenly browned, and no longer pink, 7 to 10 minutes. Drain and discard any excess grease.
Stir carrots, celery, and onion into the ground beef; cook and stir until vegetables are soft, about 5 minutes. Add potatoes, tomato sauce, crushed whole tomatoes, undrained peas, corn, and green beans to the pot; season with black pepper. Stir mixture until evenly mixed. Add thyme and bay leaf to the pot. Pour 1/4 cup water over the mixture if needed to moisten mixture, replenishing as needed while cooking.
Bring soup to a simmer, place a cover on the pot, and cook, stirring regularly, until potatoes are tender, about 1 hour.
More of Delicious Recipes You'll Love!
MAGNOLIA BAKERY BANANA PUDDING
PHILLY CHEESE STEAK CHEESY BREAD