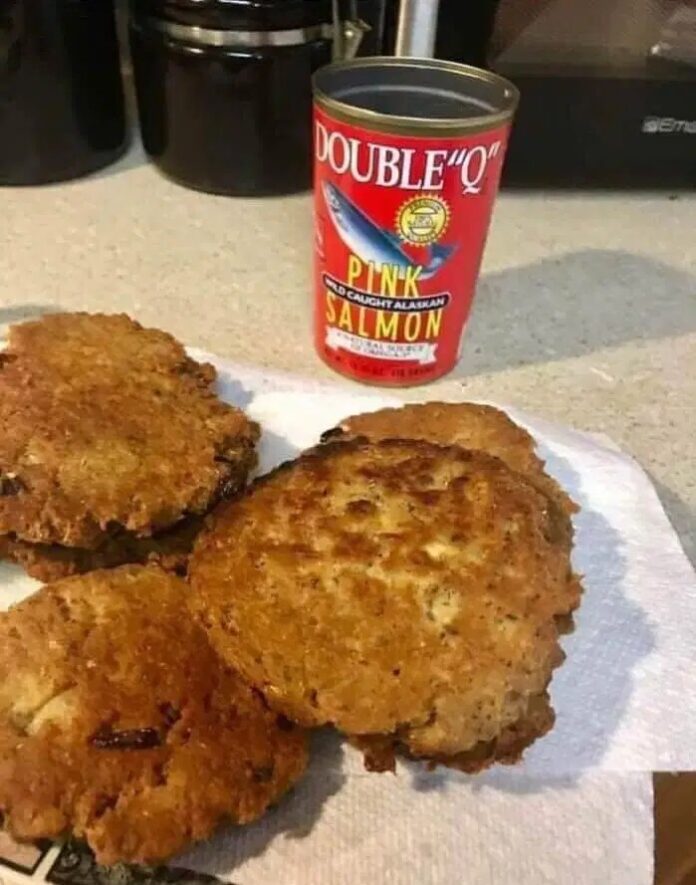 INGREDIENTS
8 ounces canned pink salmon (boneless and skinless) , drained (about 253 grams (roughly ½ pound after draining). I used three (142 gram) cans (that's the weight before draining).
4 to 5 tablespoons all-purpose flour (about ¼ to ⅓ cup)
1 large egg , whisked
2 tablespoons mayo
3 tablespoons chopped green onion
1 tablespoon lemon juice
½ teaspoon dried dill (dill weed)
½ teaspoon garlic powder
½ teaspoon freshly ground black pepper
¼ teaspoon ground cayenne pepper
¼ teaspoon salt
¼ cup cornmeal (approximately)
3 tablespoons vegetable or avocado oil (to fry)
Serving Suggestions (optional)
Lemon wedges
Tartar sauce
Dijon mustard
Hot sauce
INSTRUCTIONS
1 – In a medium bowl, mix the drained salmon with flour, egg, mayo, green onion, lemon juice, dill, garlic powder, black pepper, cayenne pepper and salt until well combined.
Note: Start with ¼ cup (4 tablespoons) of flour first and see how everything sticks together before adding more.
2 – Form into patties (I like to use a standard round ice cream scoop or about ¼ cup per salmon cake). Be gentle as they're delicate before frying.
3 – Spread cornmeal onto a plate and coat salmon patties, gently brushing off excess.
4 – To cook salmon patties, heat oil in a 12-inch cast-iron skillet over medium-low heat.
5 – Add patties to skillet. Cook patties for 3 minutes on one side.
6 – Flip patties to the other side and continue to cook for another 3 minutes or until golden brown and cooked through.
7 – Serve with lemon, tartar sauce, a dollop of Dijon mustard or hot sauce. Enjoy!
More of Delicious Recipes You'll Love!
MAGNOLIA BAKERY BANANA PUDDING
PHILLY CHEESE STEAK CHEESY BREAD