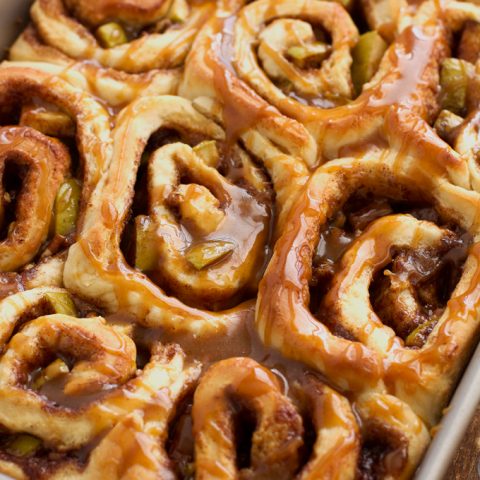 INGREDIENTS
Dough
1 cup warm milk
1 tablespoon instant dry yeast
2 tablespoons white granulated sugar
1 teaspoon salt
3 tablespoons salted butter softened
1 large egg
3 cups all-purpose flour
Filling
1/2 cup salted butter softened
1/2 cup brown sugar
1-2 tablespoons ground cinnamon*
2 medium Granny Smith apples cored and finely chopped
1/2 cup caramel sauce
Glaze
1/2 cup caramel sauce
1/4 cup chopped pecans optional
INSTRUCTIONS
1 – In the bowl of a stand mixer, combine warm milk, yeast, sugar, salt, butter, and eggs. Add in flour. Using a dough hook, turn the mixer on to a low speed.
2 – Once the flour starts to incorporate into the dough, increase the speed to a medium range. Add more flour as necessary so that the dough pulls away from the sides of the bowl. The dough mixture should be soft and tacky, but not stick to your hands. Add more or less flour until the dough reaches the desired consistency.
3 – Transfer the dough to a lightly greased mixing bowl. Cover with a towel and let rise until double in size, about 1 hour.
4 – Lightly grease a baking sheet. Punch down the dough and roll into a 12-inch by 18-inch rectangle.
5 – Spread 1/2 cup softened butter onto the dough in an even layer, leaving 1/4 inch around the edges. In a small bowl, combine the brown sugar and cinnamon. Sprinkle on top of the butter. Sprinkle finely chopped apple on top of the sugar mixture in an even layer. Finally, drizzle 1/2 cup caramel sauce on top.
6 – Roll up tightly lengthwise so you have one long roll. Use plain dental floss or a sharp knife to cut the dough into 12 one-inch slices.
7 – Place the slices onto a lightly 9×13 pan. Cover and let rise 30 to 45 minutes.
8 – Preheat oven to 350 degrees. Bake the rolls for about 18-22 minutes, until just kissed with brown on top and apples are soft.
9 – Drizzle remaining 1/2 cup caramel sauce on top of the rolls while still warm. Sprinkle with chopped nuts (optional). Serve immediately or cool and store. Stays good for 3 to 5 days.
NOTES:
*If you want a more pronounced caramel apple taste over cinnamon roll, use 1 tablespoon of ground cinnamon. For that great cinnamon roll flavor with a caramel apple taste, use 2 tablespoons of ground cinnamon.
You Might Also LOVE:
PHILLY CHEESE STEAK CHEESY BREAD