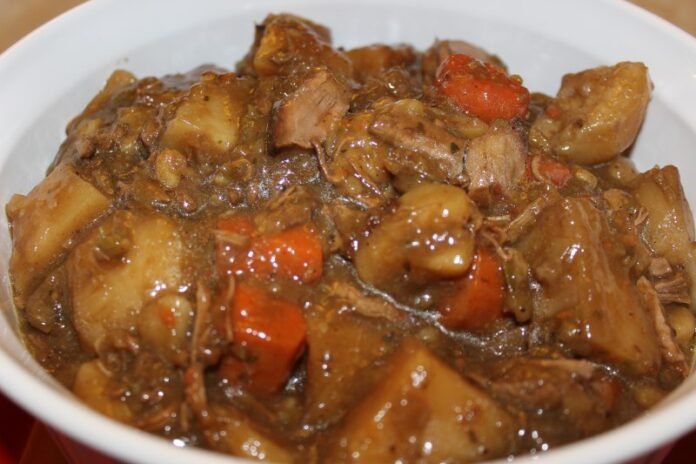 Beef Stew- chunks of beef are simmered with stewed tomatoes, steak sauce, potatoes, carrots, onion, celery and peas plus plenty of seasonings. It's a cold weather classic. So flavorful and hearty.
INGREDIENTS
2 1/2 pounds beef stew meat
salt and pepper
1/4 cup flour
2 tablespoons olive oil
2 tablespoons butter
2 cups diced onion
1/2 cup diced celery
2 garlic cloves, minced
2 cups water
2 (14.5-ounce) cans stewed tomatoes
1/4 cup steak sauce
1 tablespoons Worcestershire sauce
1 teaspoon sugar
1 teaspoon hot sauce
1/2 teaspoon dried thyme
1/2 teaspoon dried basil
1 teaspoon black pepper
2 medium russet potatoes, peeled and diced
1 cup peas
INSTRUCTIONS
1 – Season beef with salt and pepper and coat with flour.
2 – Heat a Dutch oven over medium-high heat. Add beef in 2 batches and cook until browned on all sides. Remove beef from Dutch oven and set aside.
3 – Add the butter to the Dutch oven. Once melted, add onion and celery and cook for 5 minutes.
4 – Add garlic and cook for 1 minute.
5 – Add the water and scrape up any browned bits on the bottom. Add stewed tomatoes, steak sauce, Worcestershire sauce, sugar, hot sauce, thyme, basil and pepper. Return beef to the Dutch oven and bring everything to a simmer.
Reduce heat, cover and simmer for 2 hours, stirring every now and then.
6 – Add potatoes and cook for 30 minutes.
7 – Add peas and parsley and cook for 5 minutes.
Check for seasoning and add salt and pepper to taste.
You Might Also LOVE:
PHILLY CHEESE STEAK CHEESY BREAD