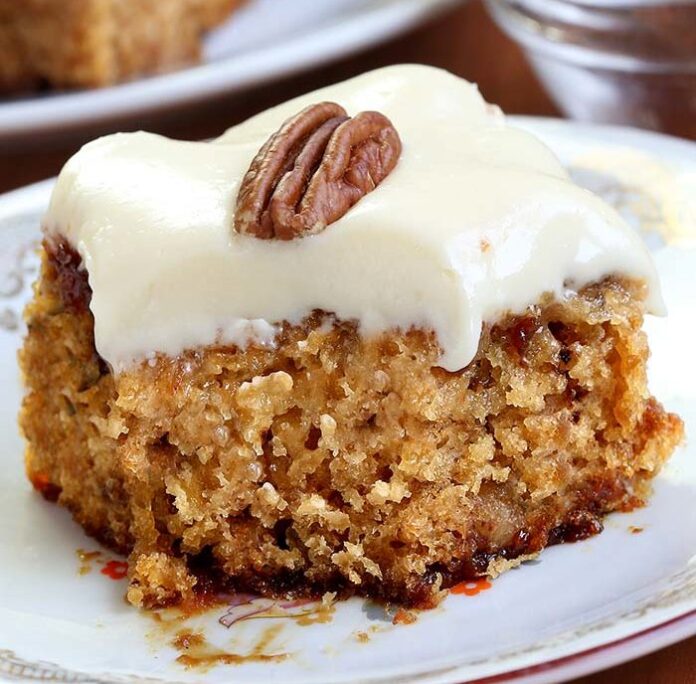 Pineapple Pecan Cake with Cream Cheese Frosting is simple and quick recipe for delicious, homemade cake from scratch, with ingredients that you already have in pantry.
INGREDIENTS
2 cups Flour
2 cups Sugar
2 teaspoons Baking Soda
2 Eggs
1 20-ounce, can Crushed Pineapple With Juice
1 cup Chopped Toasted Pecans optional
8 oz Cream Cheese Softened
1 stick Butter softened
2 cups Powdered Sugar
1 Tablespoon Vanilla
INSTRUCTIONS
1- In a medium bowl, whisk together the eggs, crushed pineapple with juice and chopped pecans(toast 'em first).
2 – Mix the flour, sugar, and baking soda in a large bowl.
3 – Stir in the egg mixture. Stir gently, just until combined.
4 – Pour into a 9×13 greased baking dish. Bake at 350F for 30 to 35 minutes till toothpick inserted in center comes out clean. COOL COMPLETELY.
5 – Combine all frosting ingredients together (cream cheese, butter, powdered sugar and vanilla) with an electric mixer until smooth. You may need to add a little milk to make it spreadable if your butter wasn't soft enough.
6 – Spread frosting evenly on top of cake. Cut the cake into any size you like.
You Might Also LOVE:
MAGNOLIA BAKERY BANANA PUDDING
PHILLY CHEESE STEAK CHEESY BREAD