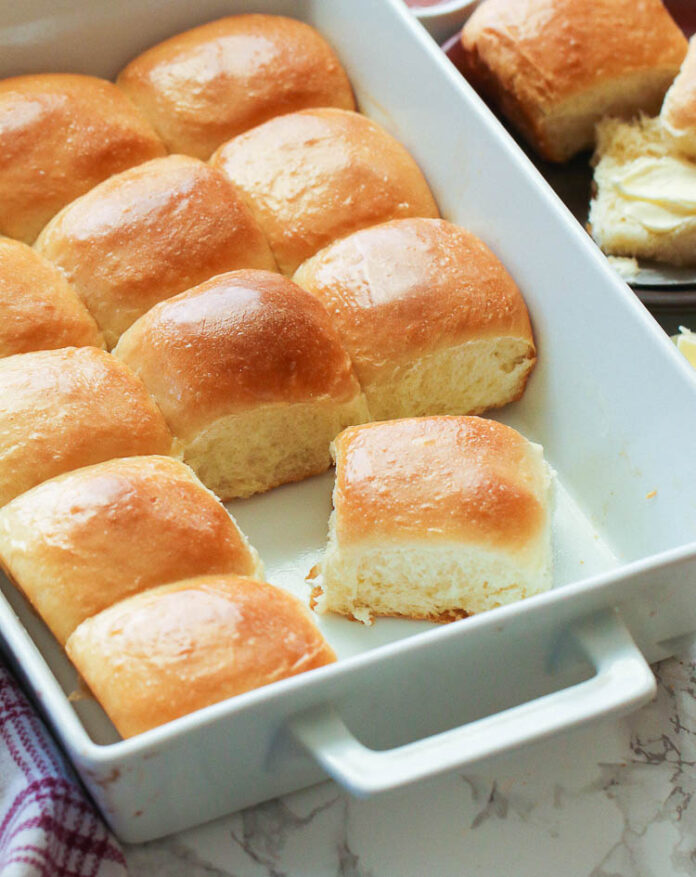 These classic, fluffy, homemade dinner rolls are the perfect, delicious rolls your whole family will love!
INGREDIENTS
4 1/2 cup all-purpose flour divided
1 1/2 tablespoon instant yeast rapid rise
1/4 cup granulated sugar
1 tsp salt
1 1/4 cup warm milk 110 degrees
4 tbsp butter softened
1 egg room temperature
2 tbsp butter melted (for the top of the finished rolls)
INSTRUCTIONS
1 – Add 3 cups of flour, yeast, sugar, salt in the bowl of a stand mixer. Stir together. Add warm milk, softened butter, and egg.
2 – Attach the dough hook and turn the mixer on to the lowest speed, mix until flour is incorporated, scraping down the sides of the bowl as necessary.
3 – Increase speed to medium and beat for 2 minutes.
4 – Add 1/2 cup flour and blend with the dough hook until incorporated. And another 1/2 cup flour and repeat, mixing at medium speed for another 1-2 minutes until a ball of dough is formed. Add up to ½ of additional flour until the dough ball is slightly sticky and pulling away from the sides of the bowl.
5 – Transfer the dough to a lightly greased bowl and cover with a towel and let rise for 30 minutes at room temperature.
6 – Remove the towel and deflate the dough by punching down lightly.
7 – Pinch off pieces of the dough to form 20 equally sized dough balls.
8 – Transfer the rolls to a lightly greased 9 x 13 baking dish. Cover with a towel and let rise for an additional 30 minutes at room temperature.
9 – Preheat the oven to 375 degrees F. Bake the rolls for 15-17 minutes or until golden brown and cooked through. If the rolls are getting too brown, just tent the rolls with foil.
10 – Remove rolls and brush hot rolls with the melted butter. Serve immediately or store cooled rolls in a plastic bag for up to 3 days.
NOTES
Warm the milk in the microwave for about 1 minute and 10 seconds to reach approximately 110 degrees F.
You Might Also LOVE:
PHILLY CHEESE STEAK CHEESY BREAD