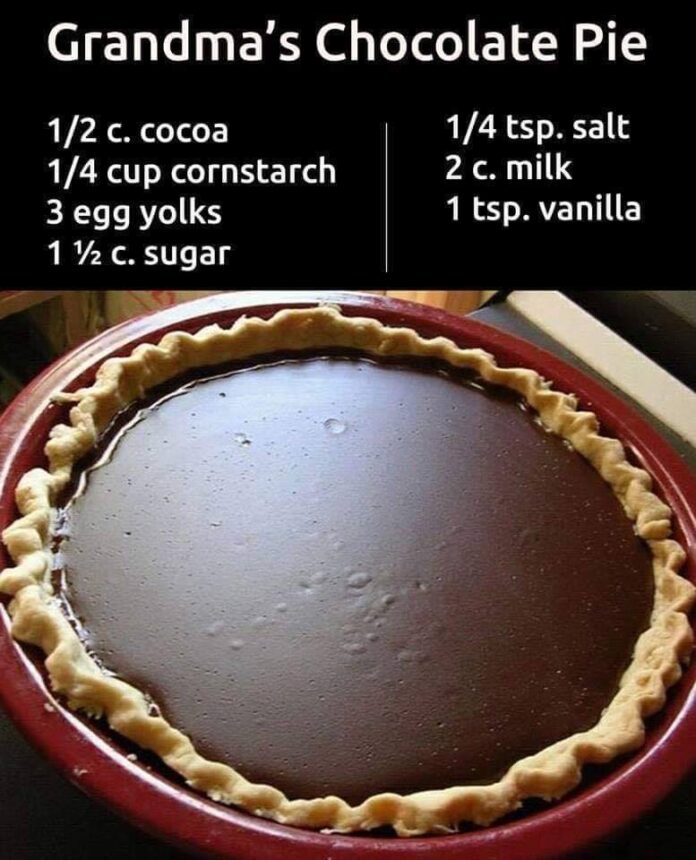 Addictive and totally delicious!! Just follow the recipe as directed and you'll have a smooth, silky & delicate pie that it nearly defies the laws of physics. Plus, I re commend you to invite people over to help you eat it so you can't devour the whole thing!
INGREDIENTS :
Cocoa: 1/2 cup
– Cornstarch/or arrowroot powder: 1/4 cup (or 1/2 cup all purpose flour)
– Egg yolks: 3
– Sugar: 1 1/2 cup
– Salt: 1/4 teaspoon
– Milk: 2 cup
– Vanilla: 1 teaspoon
– Pre-baked pie shell: 9
DIRECTIONS :
To begin with, mix together cocoa, cornstarch, beaten egg yolks; sugar and salt. While stirring in a pot over med-high heat, gradually add milk.
2. You'll want to cook until thick, beating it smooth. Mix in the vanilla while stirring. Make sure to stir… and stir for 10 to 15 minutes, because cream pies take some time to thicken.
3. For thhe purpose, I always use a heavy bottom pan. And please keep it up until it thickens. When finished, pour into a pre-baked pie shell.
4. Before serving, chill in the fridge for several hours .
5. If desired, you may add whipped cream, cool whip, or a baked meringue for the topping.
#DETAILS
Servings: yields 6 / Preparation time: about 15 minutes / Cooking time: about 2 hours
More of Delicious Recipes You'll Love!
MAGNOLIA BAKERY BANANA PUDDING
Lobster, Crab and Shrimp Macaroni and Cheese !
PHILLY CHEESE STEAK CHEESY BREAD