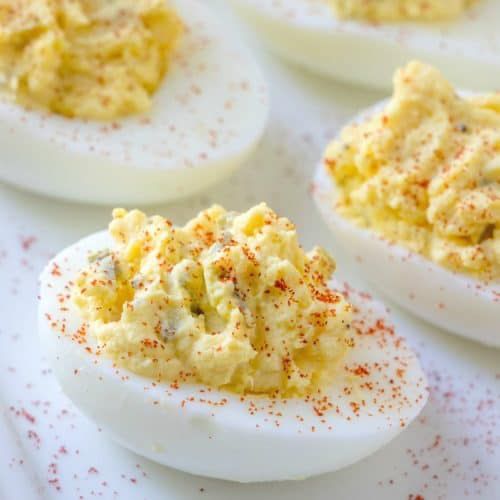 Deviled eggs are hard boiled eggs where the yolk is mixed with mayonnaise, mustard, vinegar, salt and pepper. The little sprinkle of paprika on top is the perfect finishing touch. 
INGREDIENTS:
6 large eggs
3 tablespoons mayonnaise
1 teaspoon Dijon mustard
1 teaspoon apple cider vinegar
salt and pepper, to taste
paprika, for garnish
INSTRUCTIONS
Bring a pot of water to a boil. Reduce the heat to low (or off) to ensure the water is no longer boiling or has bubbles and use a skimmer to place the eggs in the water. Then increase the heat back to high and set a timer for 14 minutes.
While the eggs are boiling prepare an ice water bath and set aside. After 14 minutes, remove the eggs from the water and place in the ice water bath.
Once the eggs have cooled completely, peel them and slice in half lengthwise. Remove the yolk to a small bowl with a spoon and place the egg whites on a plate.
Mash the yolks with a fork and add the mayonnaise, mustard, vinegar, salt and pepper. Stir everything together until it's smooth.
Use a spoon to add a portion of the deviled egg mixture back into the hole of each egg white. Sprinkle on paprika for garnish.
NUTRITION
SERVING: 2deviled eggs halves, 
CALORIES: 125.3kcal, 
CARBOHYDRATES: 0.7g, 
PROTEIN: 6.4g, 
FAT: 10.5g, 
SATURATED FAT: 2.4g, 
CHOLESTEROL: 189.4mg, 
SODIUM: 125.7mg, 
SUGAR: 0.6g
More of Delicious Recipes You'll Love!
MAGNOLIA BAKERY BANANA PUDDING
Lobster, Crab and Shrimp Macaroni and Cheese !
PHILLY CHEESE STEAK CHEESY BREAD