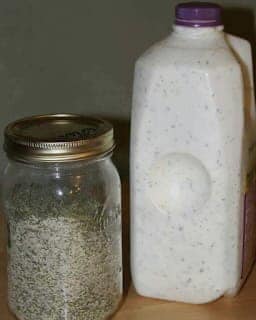 Perfectly tangy, creamy selfmade ranch dressing tastes higher than something you ought to purchase in a store.
Ingredients 
1/2 cup mayonnaise
1/2 cup sour cream
1/2 cup buttermilk or regular milk
3/4 – 1 teaspoon dried dill weed
1/2 teaspoon dried parsley
1/2 teaspoon dried chives
1/4 teaspoon onion powder
1/2 teaspoon garlic powder
1/4 teaspoon fine sea salt
1/8 teaspoon finely cracked pepper
freshly squeezed lemon juice to taste approximately 1-3 teaspoons, adjust to taste
Instructions
Whisk together the mayo, sour cream and milk until smooth. Add the spices and whisk until combined. Add the lemon and whisk again. Pour into a jar and chill in the refrigerator until ready to serve. This dressing will keep nicely in the refrigerator for up to a week.
Enjoy!
Notes
I frequently swap plain white vinegar for the fresh lemon juice in this recipe. Both acids work beautifully to provide the perfect amount of tang in the dressing.
More of Delicious Recipes You'll Love!
MAGNOLIA BAKERY BANANA PUDDING
PHILLY CHEESE STEAK CHEESY BREAD