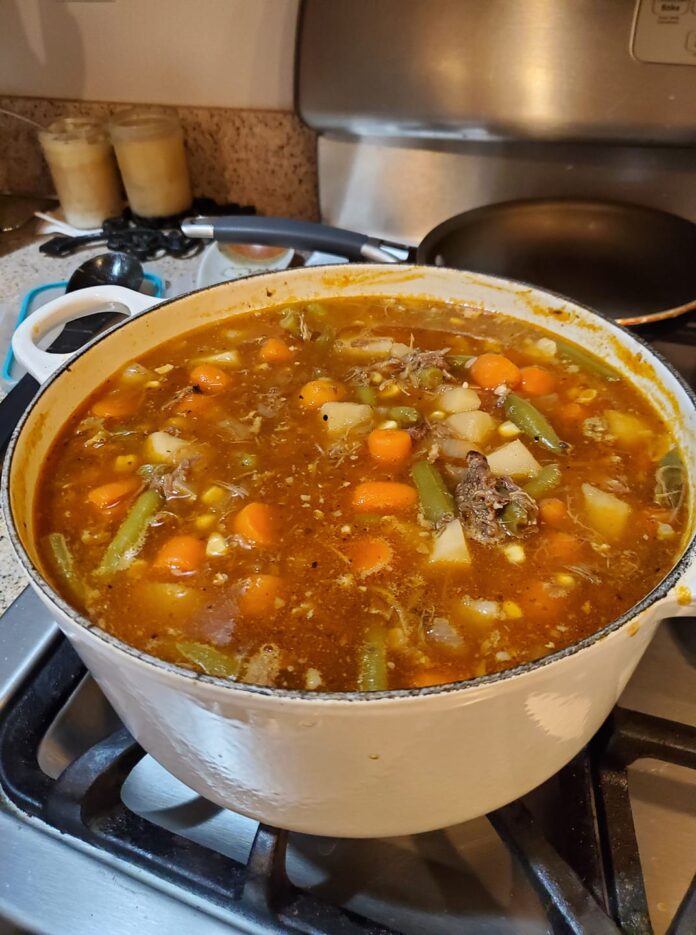 This Prime Rib Soup is full of leftover tender chunks of meat floating in a hearty bone broth. Meat and potatoes in a soup and the perfect way to use those precious leftovers. 
INGREDIENTS
Left over Prime Rib Bones
6-8 cups water
1 Tablespoon of better than Bullion Beef
1 1/2 cups dry red wine*see notes
1 1/2 -2 cups diced leftover prime rib
1 Tablespoon of olive oil
1 large onion sliced thinly
8 oz mushroom sliced
1-2 cloves garlic minced
1 1/2 cups diced potatoes of your choice(I used petite golden Yukon)
Salt and Pepper to taste
INSTRUCTIONS
In a deep pot boil your leftover separated ribs for 45 minutes * See notes
Remove the ribs from the water and trim any meat off if there is any. If you don't have 6- 8 cups left add a little water or beef broth
Add the Better than bullion to the broth and let it dissolve
In a soup pot heat up the oil and start caramelizing the onions on medium heat
Deglazing the pan, Alternating with a little broth and red wine , slowly
When the onion are nice and caramelized add the garlic and mushrooms and let them cook with the onions for about 10 minutes
Add The broth and remaining wine stirring the bottom of the pan.
Add the diced meat and potatoes and let it simmer until the potatoes are done.
Salt and pepper to taste.
NOTES
If you don\'t like the flavor of red wine you can just add more broth. Also if you prefer you can use white wine.
I have made this soup many times, it is easier of the bones are cut separate. Sometimes when boiling the ribs I will add a few sprigs of fresh herbs like thyme or rosemary for extra flavor
I have also added carrots and that is a great option
You Might Also LOVE:
MAGNOLIA BAKERY BANANA PUDDING
PHILLY CHEESE STEAK CHEESY BREAD