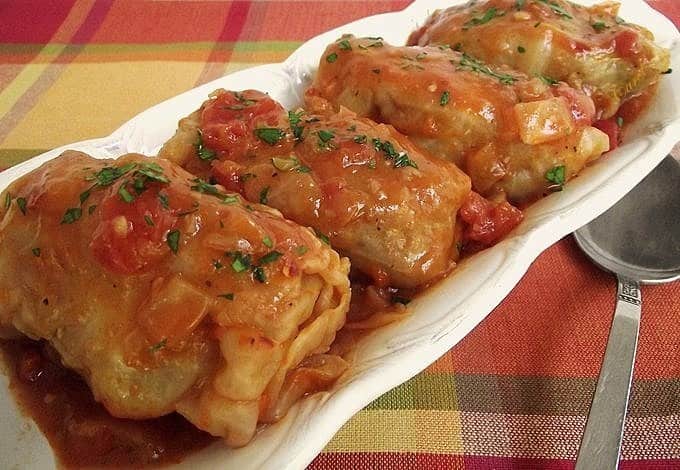 I tried this recipe for Stuffed Cabbages Rolls and have not given it up for a long time it is delicious and easy to prepare . So I decided to share it with you
Recipe ingredients :
1/3 cup uncooked white rice
4 cabbage leaves ( whole leaves )
1/2 lean ground beef
2/3 cup water
1 carrot, peeled and grated
1 onion,chopped

1 garlic clove, minced
1 egg, slightly beaten
1 tsp table salt
1 tsp black pepper
2 tsp olive oil
1 condensed tomato soup
Instructions :
1 – Get a large, wide saucepan of lightly salted water to a boil and Add cabbage leaves and cook for 2 to 4 minutes or until softened
 2 – In a medium saucepan join beef, rice, water, bread crumbs, carrot, onion, garlic, egg white, salt and pepper

 3 – In a large bowl, combine the ground beef, one cup cooked rice, onion, egg, salt and pepper, along with 1 condensed of tomato soup
4 – In a large stockpot over add the cabbage rolls and pour the remaining tomato soup over ;turning frequently, about 6 minutes,stirring and basting about 15 minutes .
I recommend you to try it thank u !
Other simple desserts
CROCKPOT CUBED STEAK WITH GRAVY