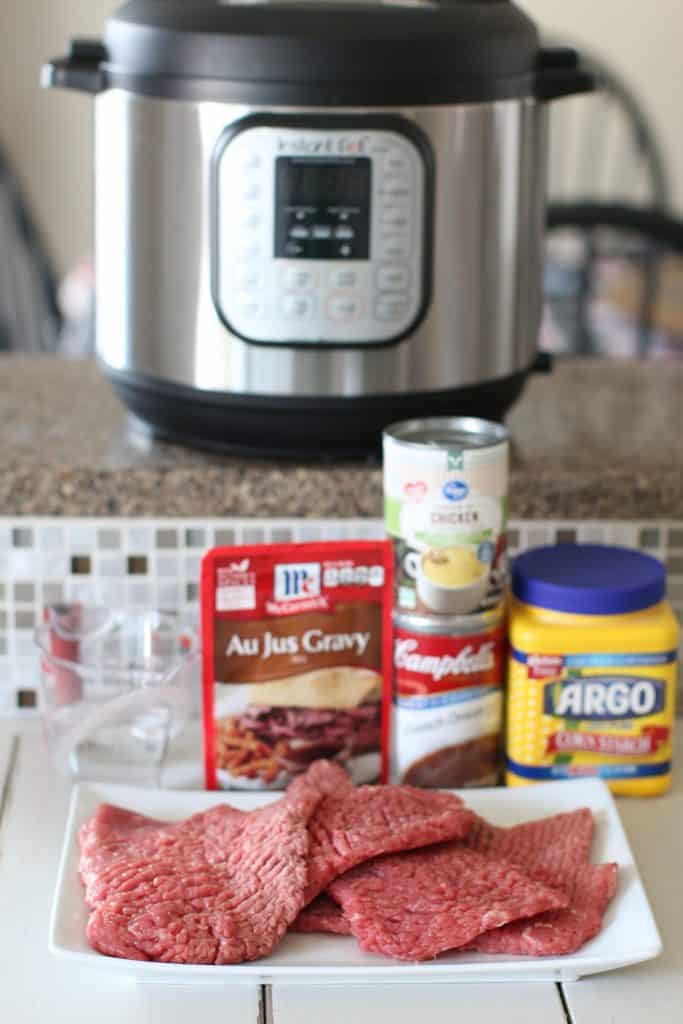 This Instant Pot Cubed Steak and Gravy comes out so tender thanks to the quick work of the pressure cooker and it makes its own gravy!
Ingredients
1 1/2 cups water
1 can French onion soup
1 can cream of chicken soup
1 packet Au Jus Gravy mix
4 cubed steaks (about 2 pounds)
1/4 cup water
3 tbsp cornstarch
Instructions
Pour 1 1/2 cups water, French onion soup, cream of chicken soup, and a packet of au just gravy mix. Whisk together well.
Place cubed steak into the pot making sure to coat the pieces in the gravy.
Close lid, turn the valve to "Sealing." Cook on Manual High pressure for 20 minutes. Note: It will take anywhere from 5-10 minutes to come up to pressure before cooking. 
If you get a "burn" message, just give it a few minutes, it will eventually start cooking. 
After cooking, carefully turn the valve to "Venting" (this is called a "Quick Release"). Be VERY careful of the steam that will quickly come out. Allow all of the steam to fully release before unlocking the lid.
Turn the Instant Pot to the sauté setting. Remove the cubed steaks. In a small bowl or measuring cup, mix together 1/4 cup water with cornstarch (this is called a "slurry").
Pour this slurry mixture into the gravy that is already in the Instant Pot. Whisk well to combine. Continue to whisk until gravy starts to thicken. Place cubed steaks back into the pot to warm them back up. Turn off Instant Pot. 
Serve cubed steak with gravy over mashed potatoes.
Nutrition
Calories: 447kcal | Carbohydrates: 5g | Protein: 46g | Fat: 24g | Saturated Fat: 9g | Cholesterol: 163mg | Sodium: 145mg | Potassium: 759mg | Calcium: 55mg | Iron: 3.7mg
Other simple desserts
EASY CONDENSED MILK DOUGHNUT AND LEMON SPONGE CAKE