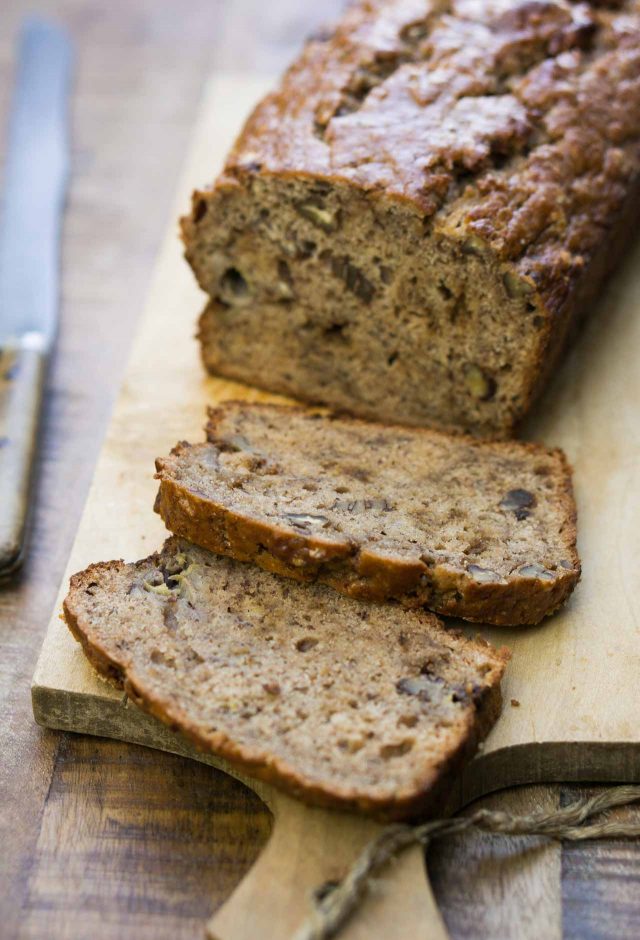 Makes one 9-inch (23 cm) cake
Be sure to use very ripe bananas: the skins should have black speckles on them and the bananas should be soft-to-mushy. (Frozen bananas, thawed, make excellent banana bread.) I often add a shot of espresso to the batter, which adds a nice background note of coffee, but it can be omitted. Additions include chocolate chips, roasted cocoa nibs, or toasted nuts. I like pecans or walnuts. If you don't have a 9-inch (23cm) loaf pan, this can be baked in a 9-inch (23cm) square cake pan. If baking in a shallow cake pan, the baking time will likely need to be reduced to 40 minutes, or baked until a toothpick inserted into the center comes out clean of crumbs.
Ingredients:
1 1/2 cups (210g) flour
1 teaspoon baking powder preferably aluminum-free
1/2 teaspoon baking soda
1/2 teaspoon salt1 teaspoon ground cinnamon
3/4 cup (150g) sugar
2 tablespoons (30g) melted butter, salted or unsalted
1 large egg white
1 large egg, at room temperature
1 cup (250ml) banana puree, made from about 2 very ripe, large bananas
1/2 cup (125ml) sour cream, regular or low-fat, or buttermilk
1 teaspoon vanilla extract
1 tablespoon liquid espresso, cooled to room temperature
1/2 cup (80g) chocolate chips,
1/4 cup (40g) roasted cocoa nibs, or 2/3 cup (75g) toasted pecans or walnuts, coarsely chopped
Instructions:
1. Butter a 9-inch (23cm) loaf pan and line the bottom with a sheet of parchment paper. Preheat the oven to 350ºF (180ºC).
2. Whisk together in a large bowl, the flour, baking powder, baking soda, salt, and cinnamon, making sure there are no lumps. Whisk in the sugar.
3. In a large bowl, mix together the butter, egg white, egg, banana puree, sour cream or buttermilk, vanilla, and espresso, if using.
4. Make a well in the center of the flour mixture and use a flexible rubber or silicone spatula to stir in the wet ingredients with a spatula until partially mixed. Add in the chocolate chips, cocoa nibs, or chopped nuts, and fold them in until everything is just combined, but don't overmix. Stop when any traces of flour disappear.
5. Scrape the mixture into the prepared pan and bake for 50-55 minutes, or until the center feels done. A toothpick inserted into the center should come out clean.
6. Cool on a baking rack before removing from the pan and slicing.
Storage: This cake will keep well for 4 or 5 days at room temperature, if well-wrapped, or frozen for up to two months.
Related Posts and Recipes
EASY CONDENSED MILK DOUGHNUT AND LEMON SPONGE CAKE